What do you do on a daily basis?
I am responsible for anything to do with lights and special effects during a performance. That means every one of the more than 600 lights of the stage, as well as any video projections and smoke. I plan their implementation according to the lighting designer's wishes and supervise their setup and programming for all rehearsals and performances.
Supervision involves watching the technical part of a performance from the audience's perspective. If a particular light does not work, for example, the production doesn't look the way it should. In those situations you must react fast and fix the problem.
I sit in a control room behind the auditorium. The lighting operator who programs the lights sits next to me, and I communicate via an earpiece with the stage director and stage manager on the side and back stages.
There are three other lighting supervisors at the Opera House besides me, and we divide the productions for which we are responsible between us. In season 2019–2020 I am in charge of Pippi Longstocking, La Bayadère, and COW. A lighting supervisor also has team leader duties. 
How did you end up working at the Finnish National Opera and Ballet?
I have worked on theatre lighting ever since I was young. I'm originally from London, where my upper secondary school had a strong emphasis on dramatic arts. I spent a couple of years studying acting, but at the age of 18 I realised I'd rather work on stage lighting technology. I went to study Lighting Design at the Royal Academy of Dramatic Art in London. After finishing my degree I ran my own sound and lighting company until moving to Finland for family reasons.
The reason I applied to work at the Finnish National Opera and Ballet was that they are the largest and busiest stage in FInland and they have English as their working language. I started here as a stage technician in 2014. In 2016, I took up the role of a lighting assistant, and since August 2019 I have been substituting my colleague as a lighting supervisor. I really enjoy working here.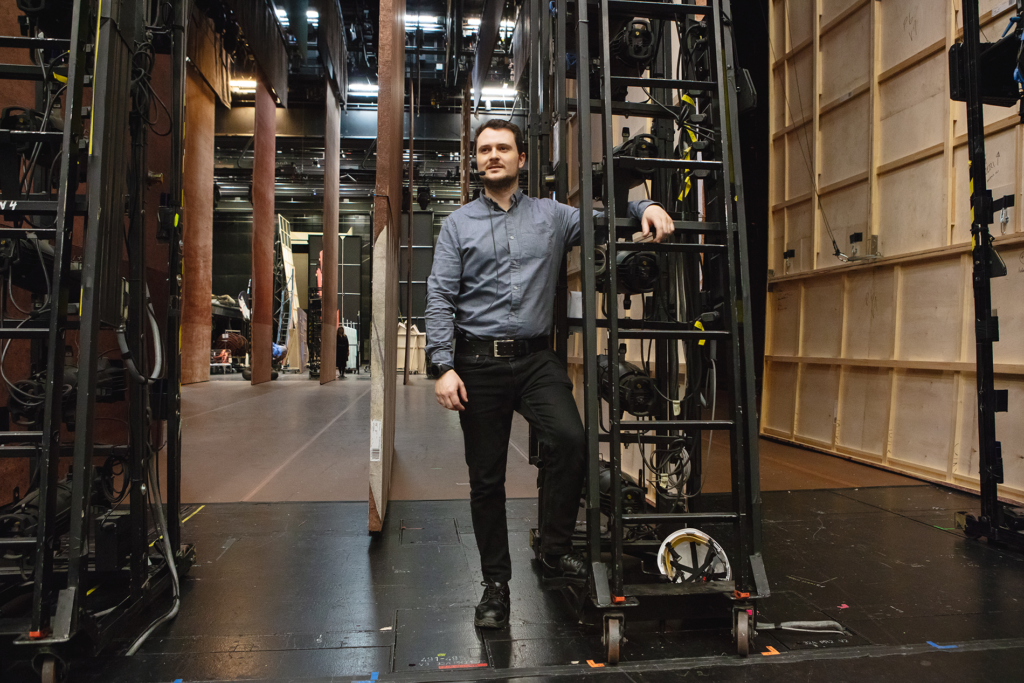 What do you do on a typical day?
In the morning I arrive at work at around 9 a.m. I start off with a few hours of office work, plan for the upcoming production, and conduct scheduling. After that I often have meetings.
At 3 p.m. we start setting up for the evening's performance, which is when lamps, smoke machines and other equipment are put in place. Once everything is up and running, we spend about an hour testing that every lamp works properly, and that their colours and angles are correct.
At about 6 p.m. the stage is empty and we grab dinner. When the performance starts at 7 p.m., I supervise it from the control room. 13–14 hour days like this only happen in the most hectic periods of my job, though.
Sometimes there may be a week when I only have performances on my agenda, rather than also having to plan for new productions. Such weeks are downright tranquil. It's enough to come to work at 3 p.m. and make sure that everything is in order. Our system is very reliable, so surprises during a performance are rare.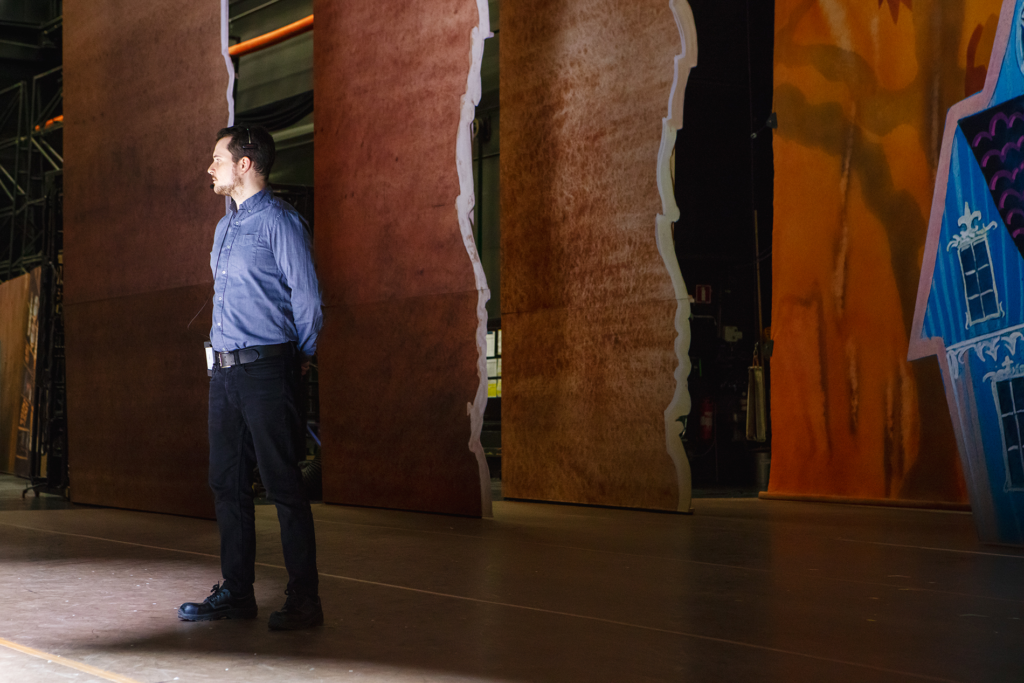 What is your most important tool?
That's definitely my laptop, I couldn't manage without it. It has all the plans, notes and models for the current production. I don't want to print anything out unnecessarily. You can just as well read it on the laptop screen.
I have a 3D model of the auditorium and sketches for the sets on my laptop, which I use to plan the lighting and other special effects. The model is very effective, as it helps me understand what the production will look like and how its lights should be positioned before anything has been physically built on the stage.
What characteristics do you need in your role?
More than anything, my job requires the ability to work under pressure. Sometimes there can be three people talking to me via the earpiece simultaneously and a fourth person next to me talking about something else. When this happens, you have to stay calm and prioritise who you answer first and who can wait.
You also need good interaction skills, as sharing ideas is a major part of this role. It's paramount to be able to express your thoughts, but listening to others is even more crucial. You also need to have what it takes to communicate clearly when the situation demands fast action.
What is the most challenging part of your job?
The most stressful moments take place during the creation and stage set-up of a new production. A premiere involves the wishes and opinions of so many people. Everyone from the director and choreographer to the lighting, set and costume designers has a different perspective.
Time management is also challenging. During a stage rehearsal the technical professionals, too, rehearse the changes and events on the stage. You must find answers to lots of questions very fast. As we're always in a rush, we can never implement our vision 100 per cent. We must hit our deadlines, because there's so much other stuff that needs to be built on the stage.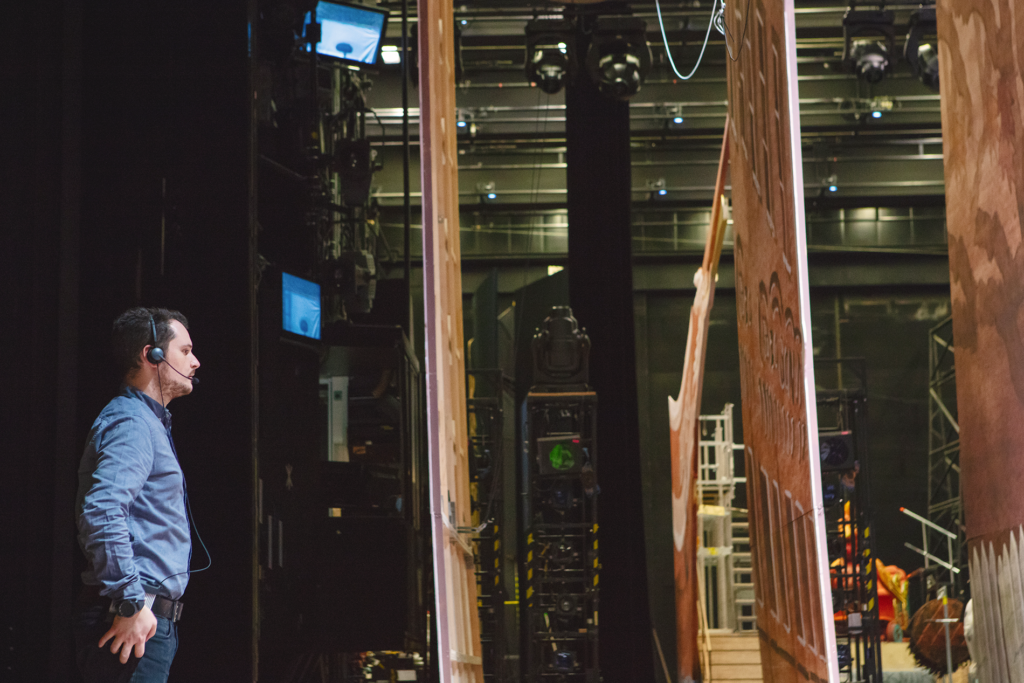 What do you like best about your job?
Being able to enjoy the same magic as the audience during a performance is really rewarding. It's wonderful to have the opportunity to see a performance in which everything goes exactly as we have planned and set up. A standing ovation gives me goosebumps, too.
I also like the fact that I get to work on a lot of different productions in a short space of time. It's important to me that every day is different. I couldn't do the same thing for months on end.
How do you take your mind off work in your free time?
I spend a lot of time with my five-year-old son. When I'm with him, I'm too busy to think about work.
Another important pastime of mine involves my electric car, a Tesla. I am passionate about environmental issues and I believe that technology is the solution to the world's problems. Tesla is one of the pioneers in this, and I am an enthusiastic member of their community.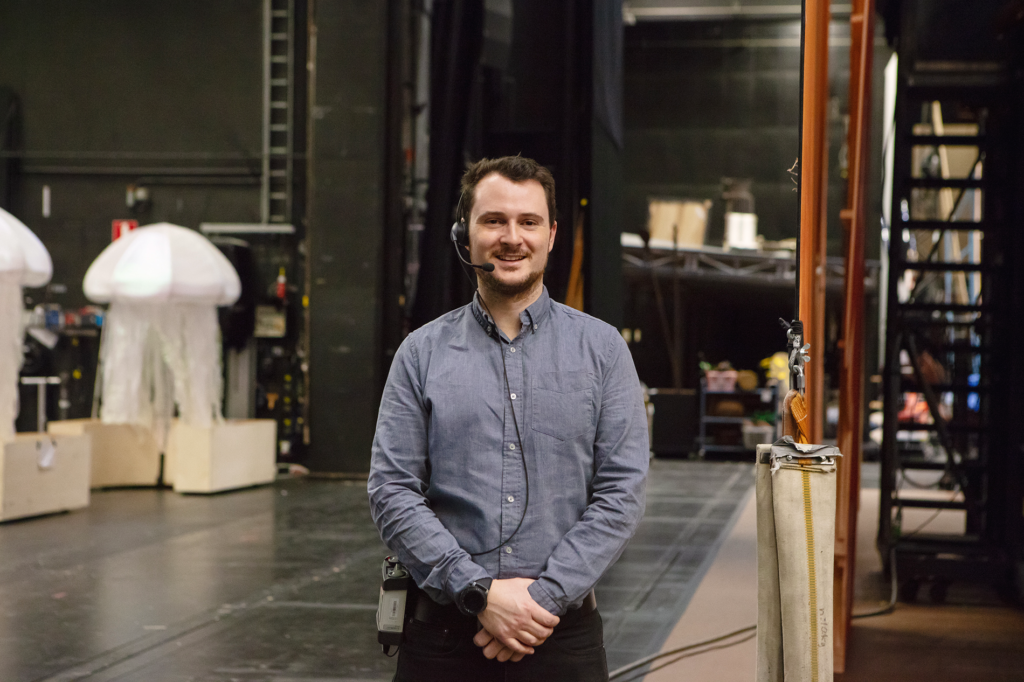 What is your favourite opera or ballet?
The sets for the opera Rigoletto really hit the jackpot. The Nutcracker and the Mouse Kingis another firm favourite. It's a beautiful performance that made a lasting impression on me, perhaps as it's the first production on which I worked here.
I also enjoy watching productions for which I'm not responsible. I didn't know so much about opera or ballet before starting to work here, so I see it as important to educate myself and to see the great classics. The fact that many 19th century works still touch today's audience proves their immense value. It's a real honour to work on such a marvellous tradition.
Text TUIKE LEHKO
Photos EMMA SUOMINEN