"It's amazing how a ballerina balances her entire body on just the toes"
Ballet shoes are the single most important tool of the ballet dancer. Sara Saviola, 2nd soloist dancer with the Finnish National Ballet, tells about her relationship with ballet shoes.
I started to dance very early on at home in front of the TV so that my parents wouldn't just watch programmes but rather pay attention to me. I'd pick a bunch of clothes, change into one outfit after another, and dance. Our laundry basket was full of my clothes every day, as whenever I had a new inspiration, I would put the dress I'd worn for the previous dance into the wash. I related very strongly to different stories then, and in a way I still continue the same dress-up games.
The former dancer and ballet teacher of the Finnish National Ballet, Merja Tuohimaa-Puurtinen, lived close by, so together with her daughter Silja, who was my age, I went to her ballet classes for a year. I applied and was accepted to the Ballet School of the Finnish National Opera and Ballet when I was 8. I attended the school for 10 years, as half way through my studies, a curriculum revamp delayed my graduation.
I got my first pointe shoes at the Ballet School of the Finnish National Opera and Ballet after studying just around half a year. There's a photo in which I balance on pointe in totally unmodified shoes, in which you can barely stand up. Now I always think about what I could've done to those shoes to make things easier: soften them with a hammer and bend the soles. But in that photo, I stand with my chest out, so proud of the fact that I'm wearing pointe shoes.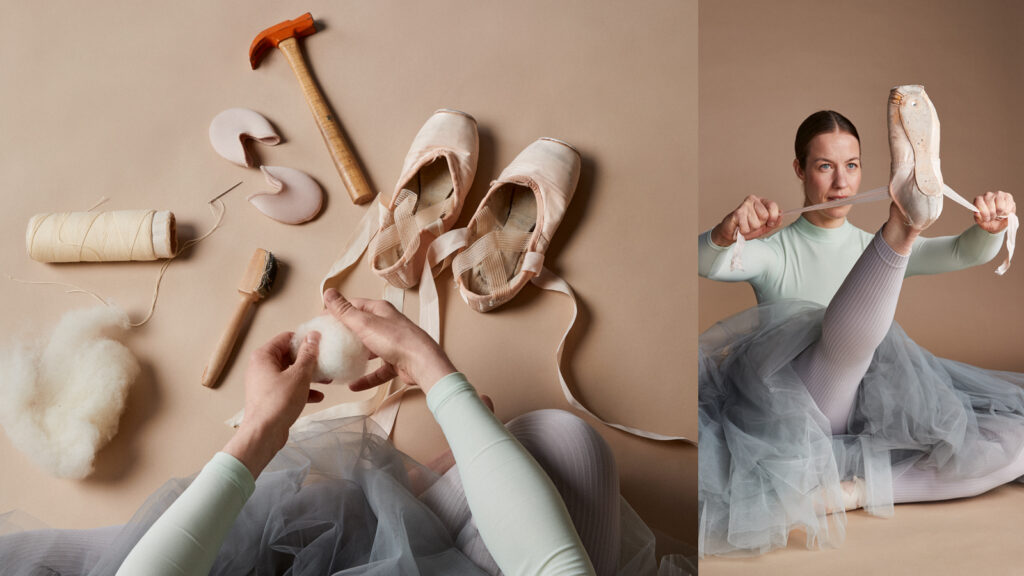 Pointe shoes are an extremely important tool for a ballerina. Just think about it, it's quite amazing how you balance your entire body on just the toes. My favourite shoes are so well worn in that they've become soft like socks. I've already varnished them with wood floor varnish a few times to harden the toes and give them a rubbery feel. Our expert shoemakers have also adapted my ballet shoes according to my wishes once they've arrived from the factory.
It says a lot about what pointe shoes mean to me that, particularly when I'm on holiday, I often dream that I'm wearing the wrong coloured pointe shoes for a performance. Even on maternity leave, I had to keep in mind that I'd need to get back into my pointe shoes. When I was putting my baby to sleep, I'd do exercises to strengthen my feet, rising on demi pointe as soon as I was back to my pre-pregnancy weight. Towards the end of the maternity leave, I'd wear pointe shoes at home to get my feet used to the pressure again.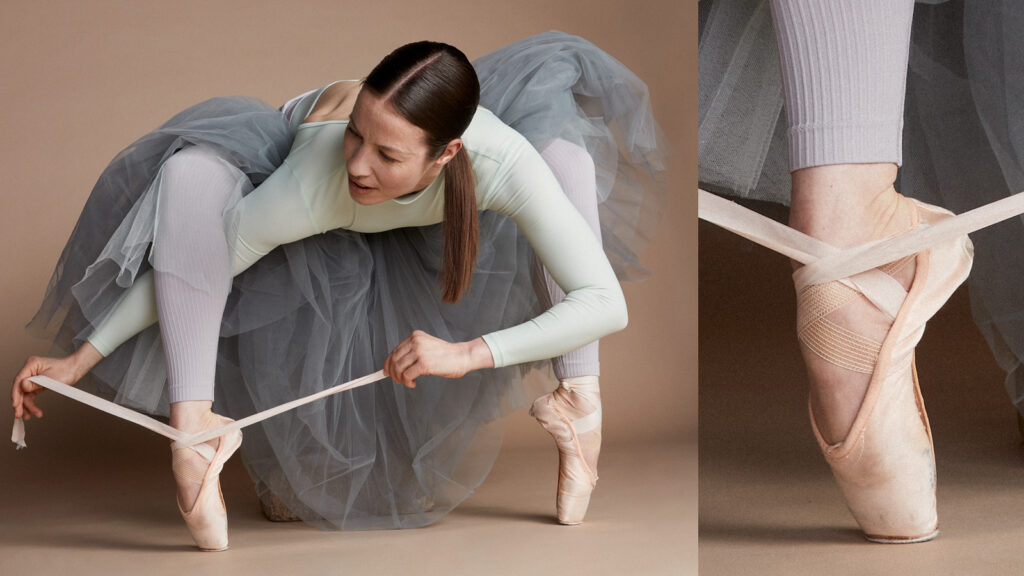 It's essential to look after your feet, too. Hardened skin on the toes is actually a bonus, so you can save the spa treatments to the start of the summer holidays. While wearing pointe shoes, I protect my toes partly with lambswool and partly with Ouch Pouch pads. Worn out and soft pointe shoes are the best choice for contemporary dance. The often fast-paced and nimble movement language of contemporary dance productions sets a totally different standard for pointe shoes, as they mustn't make the dancer's moves look stiff.
The Finnish National Ballet is a home that I cherish. I love the girls in the dressing room, the group full of my best friends, and all the great people across the departments. I am so grateful to have made my career somewhere like this. It's a good place to be.
Text HEIDI ALMI
Photos JONAS LUNDQVIST