Krzysztof Pastor – Wojciech Kilar
Dracula
Duration

2 h 25 min, Incl. 1 interval (30 min)

When

1.3.2024 – 23.3.2024

Where

Main Stage

Genre

Ballet

Price range

20–134 €

Age recommendation

10+
A ballet with a taste for blood
The world's most famous horror story about the cursed Transylvanian Count is now seen as a ballet! Krzysztof Pastor's choreography was received with great enthusiasm in West Australian Ballet in 2018. The music by Wojciech Kilar was also heard in the Oscar-winning film Dracula by Francis Ford Coppola.
The blood-thirsty and diabolical yet sexually alluring horror icon made his first appearance in European short fiction during the early 19th century. Bram Stoker's Dracula, inspired by the historical figure of 15th century Count of Wallachia, Vlad the Impaler, has become a classic in popular culture. The haunting story has been recreated in countless film and stage adaptations since its publication in 1897. One of the best known renditions is the Oscar-winning film directed by Francis Ford Coppola in 1992. The chilling film music by the Polish composer Wojciech Kilar serves as the foundation for the ballet score, which has been complemented with Kilar's additional compositions.
"Krzysztof Pastor carefully balances cutting edge modern ballet and classical romanticism. The combined effect is perfection: a world filled with sensuality and impending danger."

– Graeme Watson, Out in Perth
watch trailer
synopsis
According to rumours, the valiant Count Dracula from Transylvania has met a heroic death in battle. Consumed by grief, his wife Elisabeta has thrown herself from the castle tower. The Count has survived, however, and is distraught to discover his wife's fate. When priests refuse to bury Elisabeta because of her suicide, Dracula renounces God and becomes a cruel vampire.
Centuries later, a young barrister Jonathan is preparing to travel to Transylvania to finalise Count Dracula's purchase of an English estate. Jonathan and his fiancée Mina meet up with their friend Lucy, her brother, and her two suitors, the aristocrat Arthur and the psychiatrist Seward. Mina is sad to see her fiancé go away.
In Transylvania, Jonathan notices that everyone is somehow anguished about the Count's castle. Before the property transfer, he finds himself at a vampire party in the castle. When he accidentally cuts his finger, Dracula is drawn to his blood. The Count sees Jonathan carrying the portrait of Mina, who resembles his deceased wife.
Dracula saves Jonathan from a throng of vampires by giving them the body of dead child. Jonathan follows him into a vault and opens the coffin in which Dracula sleeps. Dracula tries to abduct Jonathan, who is saved by the mother looking for her child.
Back in England, one of the patients in Dr. Seward's hospital next to Dracula's newly bought estate, Renfield, exhibits frightening behaviour. As Dracula's coffin is carried past the hospital, Renfield becomes even more agitated. Soon, Dracula appears at the window, and Renfield invites him in.
Lucy and Arthur are celebrating their engagement, but the party guests fail to notice they're being observed. Dracula chooses sleeping Lucy as his victim, and after drinking her blood, he quickly turns back into his young self. One of the guests, Professor Van Helsing, finds teeth marks on Lucy's neck. Dracula recognises Mina, the spitting image of his Elisabeta, whom he saw in the portrait earlier.
As the party is cut short because Lucy feels unwell, Mina sees her about to sleepwalk into Dracula's arms and manages to wake her. Though people try to protect Lucy with garlic, Dracula strikes his victim again.
Jonathan returns to London to meet Arthur and Van Helsing at the hospital. Renfield sees Mina and attempts to warn her. Lucy's friends try to prevent her from turning into a vampire. Lucy is not in her grave, however, but is trying to seduce Arthur. Seward pushes a stake through Lucy's heart and saves her from eternal damnation.
Dracula takes revenge on Renfield for warning Mina. Eventually, Mina understands the reason behind Dracula's attraction and surrenders to his power. As her friends arrive, Dracula escapes and appears again in his old form. Mina protects the miserable old Count and kisses him. Dracula wants to save Mina from his own fate and asks her to kill him. As Dracula dies, he is transformed into a young man and freed from suffering forever.
The full synopsis can be found in the programme leaflet.
gallery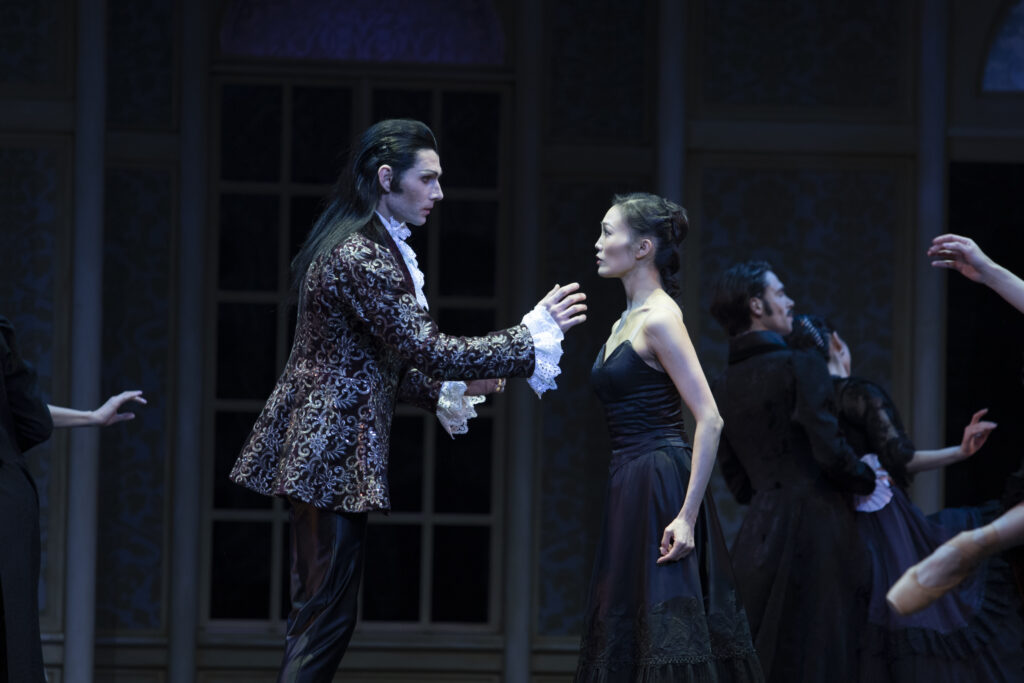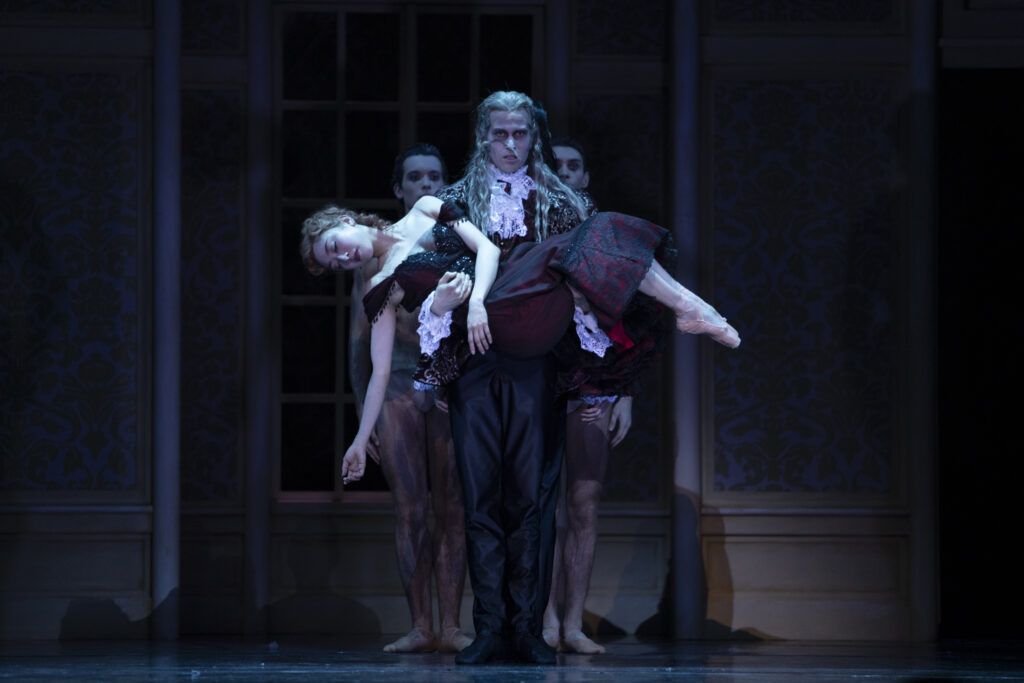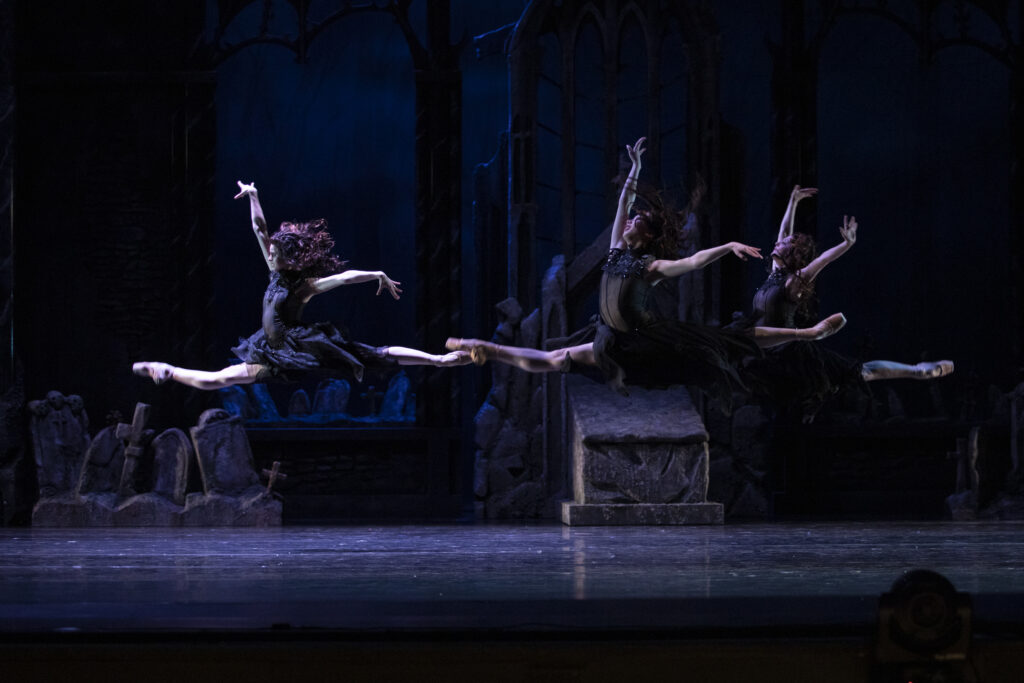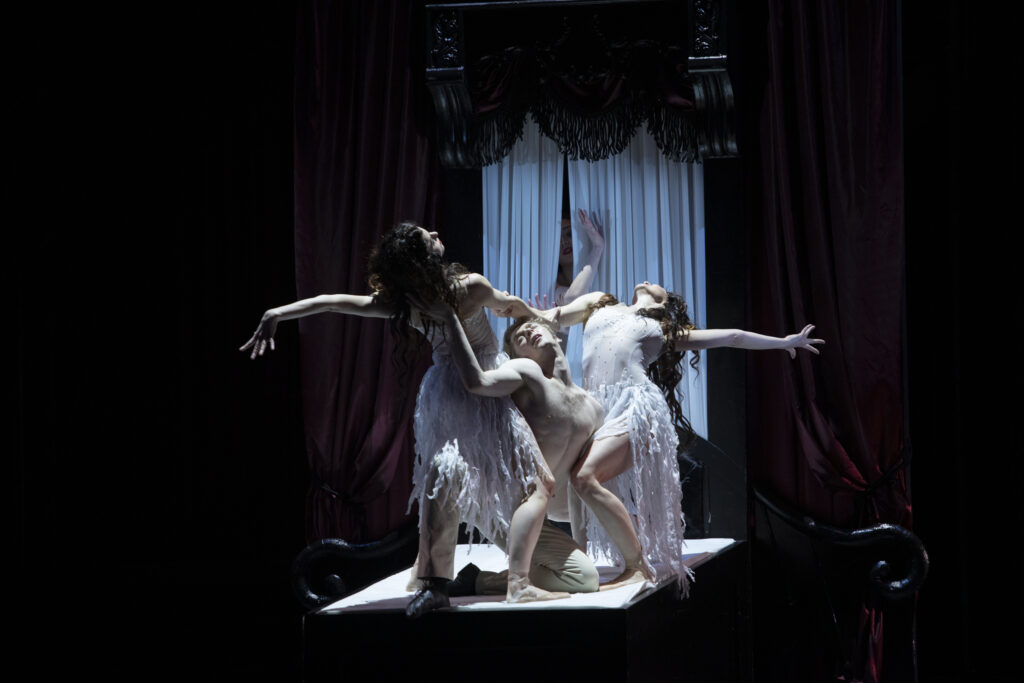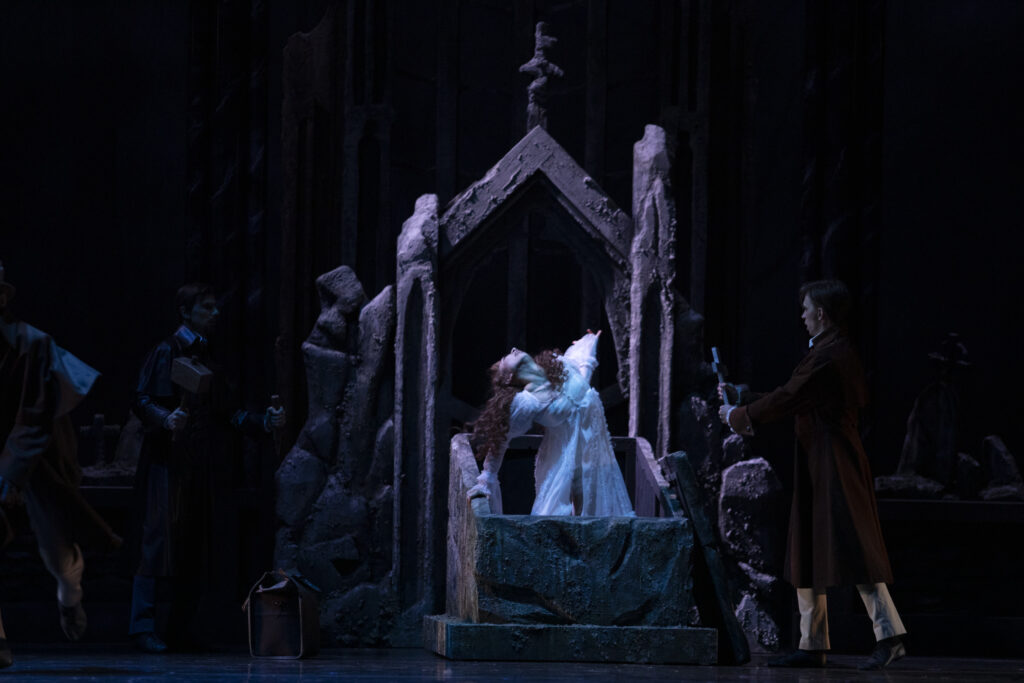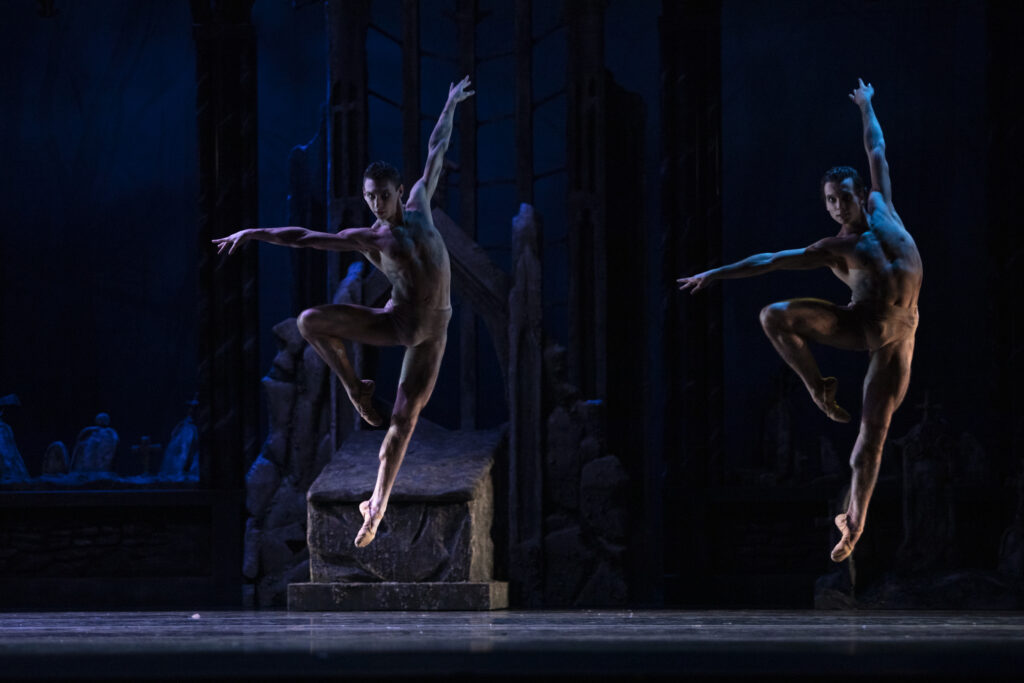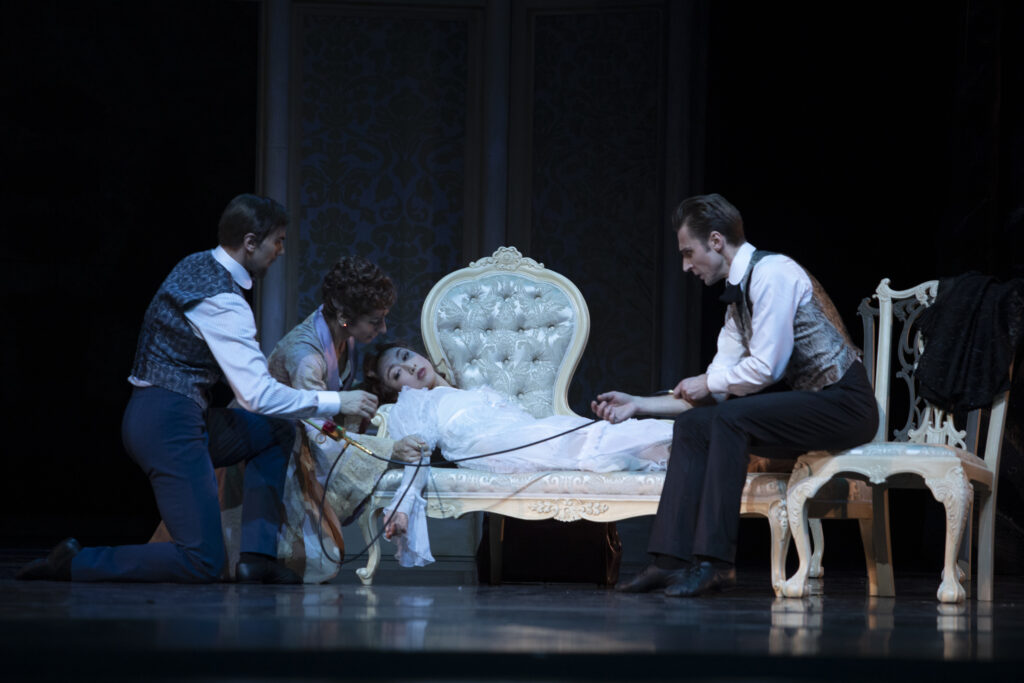 Creative team
Choreography

Krzysztof Pastor

Music

Wojciech Kilar

Conductor

Sets

Charles Cusick Smith, Phil R. Daniels

Costumes

Charles Cusick Smith, Phil R. Daniels

Lighting Design

Jon Buswell
The production has been rented from the Polish National Ballet
Performance photos: Ewa Krasucka / Polish National Ballet
cast
Cast will be published later.
listen to dracula
You must accept functional cookies to listen to the playlist. To modify your cookie settings, go to cookie settings at the bottom of the page.
tickets & Performances
The keys to an entertaining evening
Order refreshments
Enjoy refreshments
before the show
or in the interval.
See the diverse menu
and place an order
in advance.
Programme booklets
Programme booklets
are sold by our
customer services,
the Opera Restaurant,
and our lobby
personnel for 7 euros.
Arriving at the Opera House
The Opera House
is located by the
Töölönlahti bay at
Helsinginkatu 58.
Learn the easiest
ways to get here.
Accessible seats
For accessible seats,
please call our
customer services.
Learn more about
accessibility at
the Opera House.